Choosing the Right Shower Enclosure for Your Home
By Denny Nelson, General Manager at St. Germain's Glass
Remodeling a bathroom is one of the top priorities for new homeowners and veteran homeowners alike. Because the bathroom is one of the key rooms within a home, it's important that homeowners customize it to their comfort, budget and style. Many features within bathrooms, like a shower enclosure, often stay with the home for years to come. This is why it's important to have all the necessary information before selecting a product or design.
The top several reasons homeowners choose to remodel bathrooms include:
Owners feel their bathroom is outdated
They wanted to do it all along, and can now afford a remodel
They want to personalize a recently purchased home
The old bathroom deteriorated or was damaged/broken
Choosing the right shower door is often driven by three main factors: cost, appearance and function. All three factors must align with your ultimate vision. Whether you're focused on planning for your new home or for a remodel, making the right choice for your shower enclosure is essential to meeting your budget and ensuring the proper use, safety and enjoyment of your bathroom for years to come.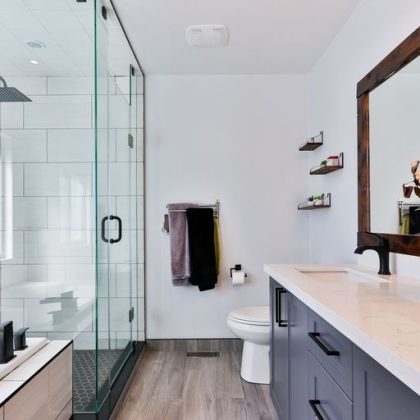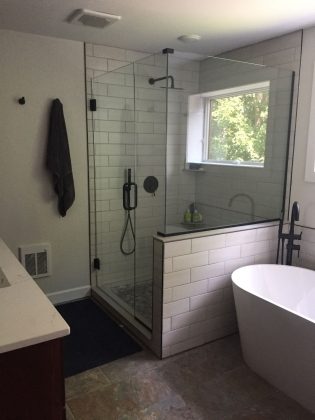 (Left and right, frameless shower doors)
What type of shower system will satisfy your needs?
There are three main types of showers: Framed, semi-framed and frameless. Evaluating the advantages to each kind will help inform your decision. Making decisions based on the short-term budget often results in buyer's remorse years later—since remodels can be more costly than doing it right the first time.
According to Angi.com, the cost of a typical bathroom remodel ranges from $6,152 to $15,246, with a national average of $10,788. Some home remodel resources estimate bathrooms can cost up to $25,000. With that investment on the line, make sure to consider all your options for your shower enclosure.
Three Shower Types
Framed Shower
A framed shower has all sides of each glass panel enclosed by a frame. The advantages of framed showers include:
Minimal leakage
Lower average cost
A simpler installation process (which also assists in lowering the overall cost of the shower).
Some disadvantages of framed shower doors include:
The doors can only swing outward
Maintenance of the door is more frequent
Mildew can build up easily
Semi-Frameless
A semi-frameless shower has framing on each side of the opening, but not around each piece of shower panel glass. Semi-frameless showers have aesthetic advantages. They provide much of the look and feel of a frameless shower, allowing for cleaner sightlines and an open appearance.
With semi-frameless doors, the main disadvantage is the potential for water leakage if the door does not fit snugly to the wall.
Frameless
A frameless shower has no framing and minimal hardware for a clean look. The clear view into the shower highlights design features such as the tilework and hardware.
The disadvantage of a frameless shower is primarily cost. Frameless showers are more costly to install—due to surrounding framework requirements, as well as the need for heavier glass. Another disadvantage of frameless showers is the increased chance of leaks between the panes of glass, since there is not a frame to provide a water barrier.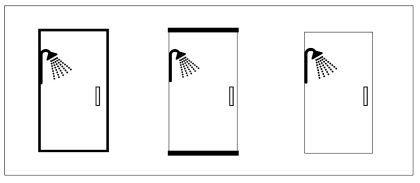 (Shown from left to right: Framed, Semi-Frameless, and Frameless shower doors)
It can be challenging to select the proper shower that will fit your budget, aesthetic preferences, and performance requirements. If you have employed a designer or an architect, they can be great resources to find the right balance of appearance vs. price. If you choose to DIY (do it yourself), choose a quality glass provider like Brin Glass Company – we will assist in walking you through the best shower options to find a solution that will meet your needs.
Contact Brin Glass Company to learn more about designing and installing your ideal shower.
Additional Resources:
10 Bathroom Remodel Tips and Advice
How Much does a Bathroom Remodel Cost?
Pros and Cons of Framed and Frameless Showers