What is Low-E? Low-E stands for Low Emissivity glass. Low emissivity glass is used to regulate temperature control in both residential and commercial applications.
Low-E is a type of coating that is applied to the surface of glass to minimize the amount of UV and infrared light that passes throughthe glass, while maximizing the amount of visible light that shines through. Low-E glass can provide up to 70% less UV transmission when compared to traditional clear glazing. In the summer, Low-E helps to send the heat back out into the atmosphere and keep the inside cool, and in the winter, its reflective properties help to keep heat in the home.
There are two different types of low-e coatings: both hard and soft coat, which are applied to the interior surface of insulated units. While both hard and soft coats serve the general purpose of regulating temperate control, they do have differences and each has its own advantages and disadvantages.
What is the difference between a hard coat and soft coat?
There are two main types of low emissivity glass. Hard coat low e glass, also known as passive solar glass, is created when a thin layer of silver oxide coating is poured or sprayed on to the glass during production at a high temperature. This process welds the coating to the glass, making it harder to scratch.  Hard coat low-E glass is commonly used on surface 3, which is favored in Northern climates where heating costs exceed cooling costs. By applying the coating to surface 3, it increases the amount of solar energy that passesthrough to the interior, reducing the cost of heating a home or business. Hard coat low-E glass tends to be a more cost-effective option than soft coat due to the number of layers that need to be applied. However, it is not as energy efficient as soft coat, allowing more UV and infrared light to pass through, which may result in higher heating cost.
Soft coat low-E glass, also known as solar control glass, is created when the same layer of silver oxide coating is applied to the glass after production, often in 2-3 fine layers.  This process results in better clarity, but the glass is more prone to scratching due to its delicate nature. Soft coat low-E is typically applied to surface 2. Soft coat low-E glass tends to be more expensive than hard coat due to the number of layers of silvering needed to create this glass.  However, it provides a higher level of low emissivity, ultimately reducing the amount of heat absorbed in a home or business.
What kind of Low-E does Northwestern Glass Fab offer?
Northwestern Glass Fab is unique because we can offer three different types of Low-E coatings in-house.
We offer Pilkington Energy Advantage for our hard coat option, available in thicknesses ranging from 1/8" up to ¼".   Additionally, we provide Cardinal soft coat 272 (LowE2) in 1/8" thickness, as well as AGC Energy Select 40, a soft coat specifically designed for commercial use.
I spoke with Jordan Sylaart, our lead for our Insulated Units, and asked him a few questions about the low-E glass we manufacture.
LC: Hey Jordan, as our IG lead, you must see a lot of IG's come through the line each day, right?
JS: Yes, right now we are running on average 165 units per day.
LC: That is quite a few insulated units! Can you tell me how many of the units that pass through the line have low-e applied to them?
JS: I would say about 65% of them have low-e, 75% of all total units if you count all the low-e types that we offer.
LC:  So, of the 165 units we are producing about 124 with low-e, that is quite impressive! Can you tell me a bit more about how they are produced and what you have to do when making these units?
JS: When we fabricate these units, we fabricate them with Low-E coatings on the interior surfaces. The reason for this is it helps to reflect the sun in the summer and keep the sun in during the winter. When we produce units with the Cardinal 272 soft coat, we mustuse our edge delete on the cutting table, which we do in order to make sure the edges fit in the frame.
LC: So, can you explain the difference in our hard coat and soft coat offerings?
JS: Our energy advantage offering is going to be less efficient than the soft coat 272, but it is easier to handle. We have to take extra care with soft coats as it can scratch and smudge easy. Also, there is a slight color difference between the two types. The energy advantage is going to reflect more gray, and the soft coat 272 is going to reflect a little greener.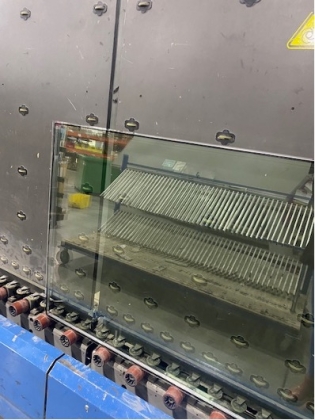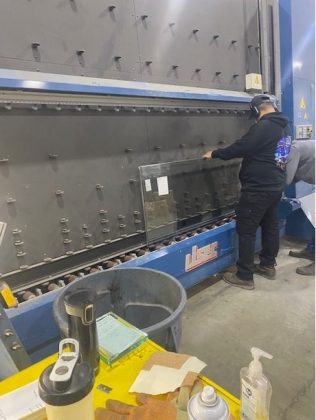 Pictured above: an IG with 272 glasses going down the line                    Pictured above: Inspecting an IG as it comes off the line
What are the differences in Energy Advantage, Cardinal 272 and Energy Select 40?
Pilkington Energy Advantage is a hard coat low-E glass that offers thermal insulation and reduces heat loss.  This type of low-E glass tends to reflect a greyer appearance and is typically applied to surface 3 of an insulated unit.  We stock this glass in thicknesses of 1/8" through ¼" to accommodate a wide range of insulated units, with a lower risk of scratching compared to a soft coat low-E option.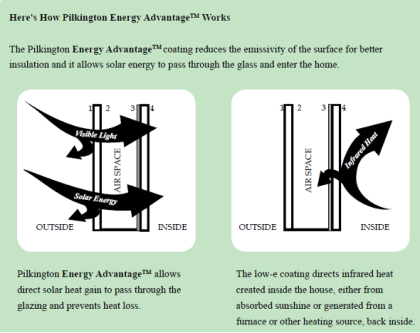 Cardinal 272 is a soft coat low-E glass that we offer, available in 1/8" thickness.  This glass tends to reflect a greener hue compared to standard clear glass.  As illustrated in the chart below, Low-E 272 exhibits excellent reflective properties, helping to maintain a warmer interior during colder temperatures.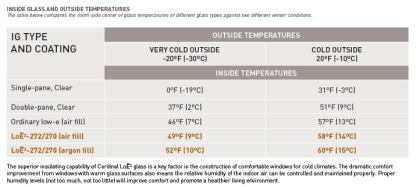 The third type of low-e that we offer at NWGF is AGC Energy Select 40. This soft coat option is specifically designed to meet code requirements suited for commercial applications.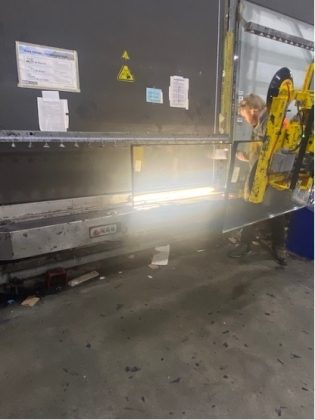 With summer approaching, it is an ideal time to replace windows and incorporate a low-E coating to the replacement units.  Low-E is an effective solution to reduce heating costs for customers and maintain warmth during the winter, which is particularly important in Minnesota.
Northwestern Glass Fab takes pride in offering three distinct types of low-E coating to cater to diverse requirements.
To learn more about the different low-e types we offer do not hesitate to reach out to our Customer Support Teams.
Sources:
•
Personal Interview with Jordan Sylaart